Welcome to Berglöf Refrigeration Technology Ltd.

(The English homepage is for the time being a short version with less information than the Swedish.)
With 18 years of experience in the Refrigeration Trade, I started 1999 Berglof Refrigeration Technology Ltd.
My focus is to support companies and organisations that need qualified services for development, education and/or decision making.
Areas where I can give qualified support are:
Support to phase out ODS (Ozone Depleting Substances) and replacing them with more environmentally acceptable substances such as HFC, Hydrocarbons and Ammonia in developed and developing countries.
Retrofit methods and procedures to chlorine free refrigerants. Evaluation of possibilities for retrofits and use of HFC and hydrocarbons.
Field measurement for capacity control and/or troubleshooting with

the state of the art performance analysing method
| | |
| --- | --- |
| | Development support to design refrigeration systems or components. |
| | Evaluation of potential energy-conserving systems and measures. |
| | Support for decision making on policies and product strategies. |
| | Education and Information within organisations and to their customers and consultants including presentation material in PowerPoint and Web publishing. |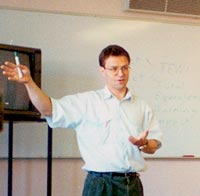 Klas Berglöf during training of Refrigeration Technicians from Estonia 1998.
I have an extensive network in Sweden and internationally, both with manufacturers, contractors and authorities. I also have experience in training of refrigeration engineers/technicians in many countries in the Swedish or English language. I have participated in the development of the Swedish code of practice and several research programs to develop more environmentally friendly and energy-efficient systems. I have several international patents on commercially successful products.
I have worked extensively with the introduction of chlorine-free refrigerants in Sweden. I have had the responsibility for the introduction of HFC as R134a, R404A and R407C as well as Hydrocarbons for the leading Swedish refrigerant distributor. My experience includes development of a full range of products for commercial refrigeration, air-conditioning and heat pumps. I have also been responsible for building up a modern filling station for refrigerants as well as a production facility for refrigeration/air-conditioning units.
More detailed information on my background will be found in my CV (Curriculum Vitae).
If you want to discuss potential projects or have further questions please do not hesitate to contact me.

Berglof Refrigeration Technology Ltd.
Nysätravägen 24, 131 33 Nacka
Telephone int.+ 46-8 55 61 55 75, Fax int. + 46-8 55 61 55 76
E-mail info@berglof-kylteknologi.se